Shop for Creative Gifts
Too busy or on a tight budget? We know how shopping for a gift can sometimes give you a headache, especially if you shop the traditional way. But wouldn't it be great if you could purchase a gift with just a simple click of a button?
No worries, we've got you covered with our top 8 online gift stores in Malaysia where you'll be sure to find the perfect surprise she/he would love!
Looking for flowers instead? Check out these popular online florists in Malaysia.
Giftr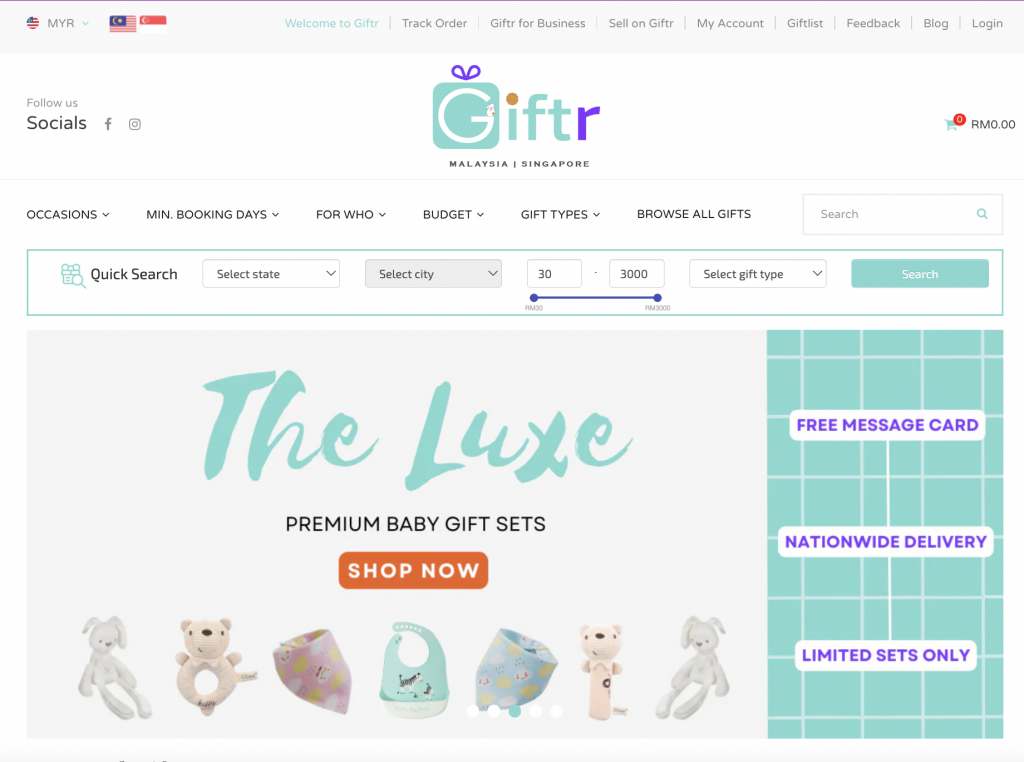 Giftr is an online marketplace for gifts connecting people around the world to buy and sell gift-related products. Giftr offers a range of unique gift items for different occasions from birthdays to anniversaries, and caters to individuals, businesses, and even pets! The online store also includes a "Budget" on the menu bar, which makes it easier and convenient for you to pick a gift below RM100 or above RM300.
Website: giftr.my | FB: giftrmy | IG: @giftrmy
With Love
With Love is Klang Valley's based premium curated gift shop run by a passionate team in curating thoughtful and beautiful gift boxes for everyone! From celebratory gifts to custom PR kits, With Love has the perfect gift selections for any occasion. Just like its name, each gift is handcrafted with care and lots of love—each adorned with preserved flowers and a handwritten calligraphy message card.
Website: withlovedotco.com | FB: WithLove.Co | IG: @withlovedotco
Camdy
Camdy is a leading thoughtful gifts marketplace where shoppers can find a wide variety of innovative, unique, and personalizable products under one roof. It is also a platform where creative artisans and aspiring entrepreneurs can showcase their products to the world. Camdy was founded in 2017 by Edward Chee, driving towards the goal of making unique and thoughtful gifts accessible to everyone. Today, the startup connects with over 1000 small creative businesses with approximately 5000 unique gift/products onboard.
Website: camdy.com.my | FB: Camdy | IG: @camdy.com.my
Hello Joy
Through the shared passion of making people smile and generating positivity into the world, Hello Joy curates gifts for all occasions with the main emphasis on functionality and design because they believe that gifts should be beautiful, but never at the expense of function. At Hello Joy, each gift box is curated with the best items carefully sourced from around the world—from trekking the tea plantations on the island of Sumatra; to discovering the latest gizmos and gadgets from crazy inventors!
Website: Hello Joy | FB: Hello Joy | IG: @hellojoy.my
Super Gift
Super Gift is the leading Malaysia online gift shop based in Kuantan that takes pride in their broad selection of gifts for a variety of occasions, from Mother's Day gifts to wedding anniversary gifts and more! Super Gift also has a Cheap Deals section consisting of pre-selected gifts curated according to a specific budget. If none of their offerings excite you, you can even choose to message them for personalized services where they will help to find the gift that suits your needs.
Website: Super Gift | FB: Super Gift | IG: @supergiftmy
Wishful
From a two-person team (yes, just the co-founders!) in September 2019, Wishful has now grown to a team of over 15 dedicated creative and operational talents to curate purposeful, practical and beautiful gifts that make an impact and create a lasting impression. At Wishful, whether it's just one or 10,000 gift sets, you can choose to pick out ready gifts from the online store or customise them with Wishful's Customer Service Concierge without any hassle!
Website: wishful.my | FB: Wishful.my | IG: @wishful.my
Eska
Looking for flowers arrangements packaged in a special box, basket or vase? Thoughtfully arranged and wrapped, Eska Creative Gifting is ready to fulfill your need for any occasions such as useful baby hampers, healthy get well/ fruit baskets, delectable gift boxes, birthday gifts, anniversary gifts, and even custom cakes! Eska Creative Gifting also offers same-day delivery for last minute gifts ordered before 1PM and free delivery services for those who live in selected Klang Valley areas.
Website: eskacreative.com| FB: eskacreativegifting | IG: @eskacreativegifting
Dóro
Gift someone special the gift of nature! Dóro is Malaysia's first artisan succulent and plant gifts store, founded to spread the art of curating succulents as a gift of inspiration for others. Over the years, Dóro has experimented with various nature based gifts and their portfolio now includes a variety of the very best plants and bouquets. Every plant gift from Dóro comes in their signature giftbox with your message wax-sealed the old fashioned way.
Website: doro.com.my | FB: My.Doro | IG: @my.doro