Shop for Creative Gifts
A wedding is a ceremony that has to be flawless and fulfill all of your fantasies. Picking the perfect wedding location is an essential priority on the checklist.
There's no denying that Klang Valley is a wedding destination hotspot, with an unlimited array of places and settings to choose from. If you're looking for some absolutely stunning surroundings for your wedding, here are our top ten picks for gorgeous wedding venues in the area that are sure to impress!
Here is the curated list of beautiful wedding venues in KL & Selangor to host your dream wedding, from elegant banquet halls to garden wedding venues.
Alternatively, you can also check out these 8 Premium Event Venues in Kuala Lumpur.
A-Park
In search of a lovely garden wedding? A-Park is one of the most well-known garden wedding venues in the Klang Valley. It is a one-of-a-kind wedding and special ceremony venue that solely offers wedding and other significant event services. Up to 280 people can be accommodated at the location and the crew is skilled at making your wedding flawless and memorable. Besides, they also provide massages, spa treatments, and other services at the Lake House.
Website: https://a-park.my/
Glasshouse
This stunning event space is ideal for a traditional wedding or even a minimalistic modern-day wedding! Its exposed brick walls, floor-to-ceiling glass panelling, and indoor garden make it a romantic venue excellent for wedding dinners and ROM ceremonies. It frees up enough space to comfortably seat up to 450 guests. Furthermore, they offer creative wedding planners that will handle everything from budgets to wedding branding, entertainment, and décor, ensuring that your special day is flawless.
Website: http://www.glasshouse.my/
The Majestic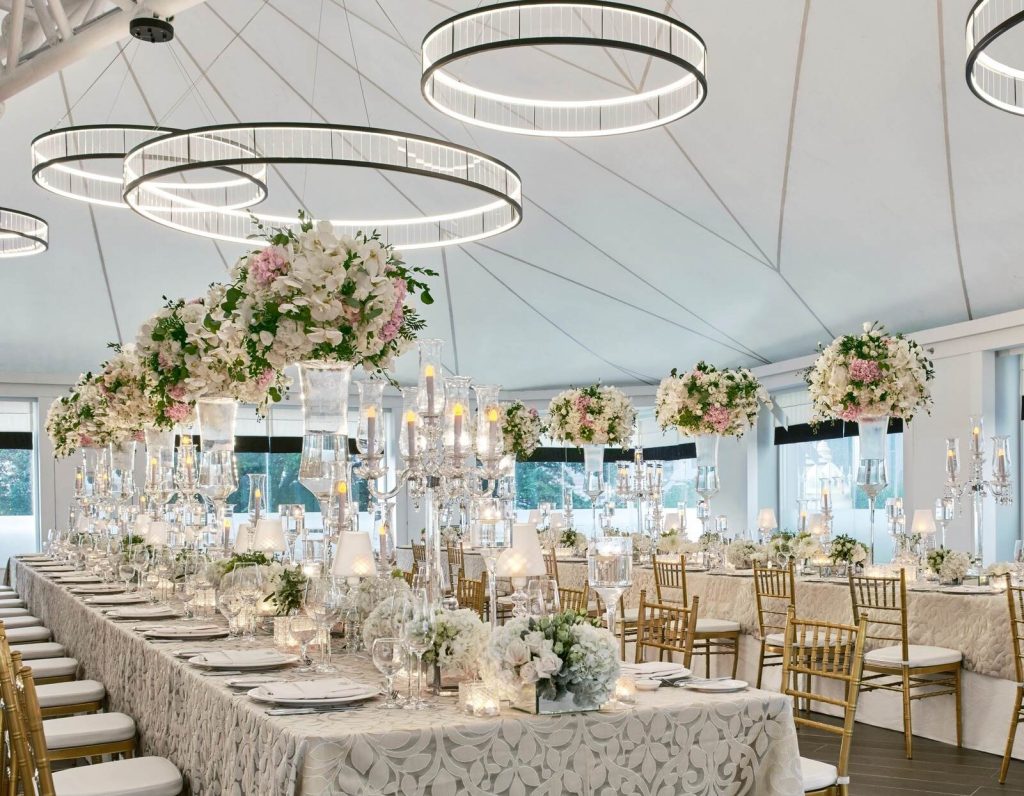 Give your wedding reception a historical feel by holding it in a venue in Klang Valley's historical district. The Majestic, which was established in 1932, is not only a wedding venue but also a National Heritage Site. The Majestic offers several wedding settings to choose from, such as the Canopy, The Majestic Ballroom, The Orchid Conservatory, and The Roof Garden. Another bonus of this venue is that its amazing cuisine, which combines western and eastern cuisines, will leave your guests speechless.
Website: https://www.majestickl.com/
The Seavoy House
The Seavoy House is an amazing estate with rustic style and lush greenery, making it a great site for your wedding celebrations. The beautifully planted grounds provide the perfect background for wedding photographs, giving it a special and wonderful setting for your big day. If you're going for a spectacular grand entrance, you'll love the elevated bridge over the pool. Whether you are planning for a tropical or rustic-themed wedding, this lovely venue is a great place to get away from the hustle and bustle of the city.
Website: https://www.facebook.com/TheSeavoyHouse/
Forest Valley Hall
If you are a lover of modern, minimalistic space designs, you will find Forest Valley Hall an ideal location to host your garden wedding. Due to its remote location, this wedding venue for rent may be easily overlooked; however, once you discover it, the serene surroundings and the attractive architecture will make you fall in love with Forest Valley Hall. This enormous space able to fit up to 2,000 people while offers a truly enchanting setting for your ceremony and reception.
Website: https://www.facebook.com/profile.php?id=100063488756615
White Ballroom PJ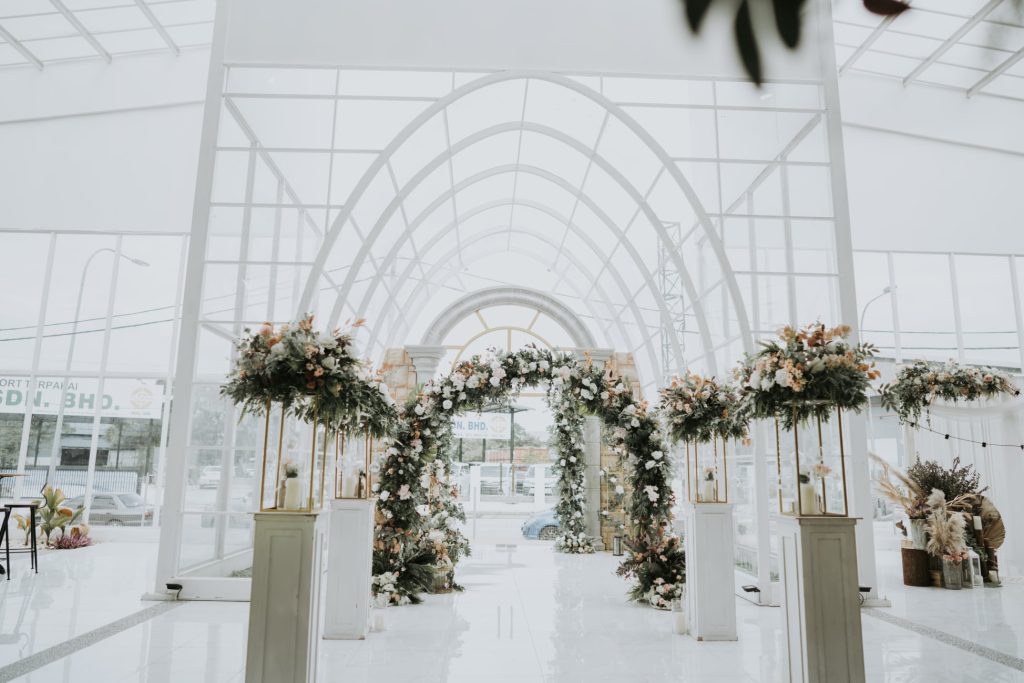 White Ballroom PJ is one of the largest non-hotel event spaces in Petaling Jaya. Its glasshouse design and raw industrial architecture make it look stunning when sunshine shines through to illuminate the entire hall. Not to mention that they provide over 300 catering alternatives, leaving you with too many options! Moreover, they offer one of the biggest parking lots in the entire Klang Valley, so your guests won't have to worry about finding a parking spot when they head off to witness your big night.
Website: https://www.whiteballroom.com/
Saujana Hotel
The Sanjana Hotel takes its name from the Malay phrase "sejauh disana," which means "as far as the eye can see." It is situated in the middle of a lake and is surrounded by magnificent tropical gardens that cover 160 hectares, with a lakeside view that can accommodate up to 500 people. There are nine exquisite cuisine restaurants to select from, ranging from Western-style fine dining to extravagant Asian banquets with superb service that will make your special day one to remember.
Website: https://www.saujanahotels.com/
Boathouse
Boathouse is situated by a beautiful lake surrounded by lush nature. Glasshouse is one of their premier venues, with the most versatile indoor space and capacity for 400 guests. Design with floor-to-ceiling windows that bring in plenty of natural light during the day and provide a stunning night sky backdrop after sunset. Their second site, The Dome, on the other hand, is a smaller wedding venue for about 100 people. It is outfitted with the most recent panoramic 360-degree projection display, as well as cutting-edge AV and technological facilities, making it the perfect pick for just any occasion.
Website: https://www.boathouse.my/
The Avenue Space
The Avenue was created with affection in order to capture precious memories and private times. Providing a stunning location as well as a comprehensive range of services for your special day in your best interests. Its rates are quite reasonable and include door gifts, emcee services, photography, catering, and event coordination. As a result, you will need not worry about finding external vendors as The Avenue take care of every requirement of your ceremony need.
Website: https://www.theavenuespace.com/
Brickhouse
Your special day can be made unforgettable by having Brickhouse as your KL wedding venue. Thanks to its distinctive venue with brick and earthy tones together with great wedding planners' service, any theme you wish will be flawlessly accomplished. Their teams are made up of pros and specialists who have created memorable moments in a range of wedding themes. Besides, you can seek recommendations from their innovative in-house culinary staff, which uses top-notch halal ingredients to provide food, to impress your guests.
Website: https://brickhouse.my/